The people working for MIRAMAR are not just professionals. We work together as a team. We mutually complement our knowledge and experience. We try to maintain a high level of competency. We are active people with rich general culture and broad interests. We believe that personal achievements are the basis of common success. Mutual support is essential for everyone. The Company ensures our motivation to work and develop.
The Management Team
Eng. Stoyan Dimitrov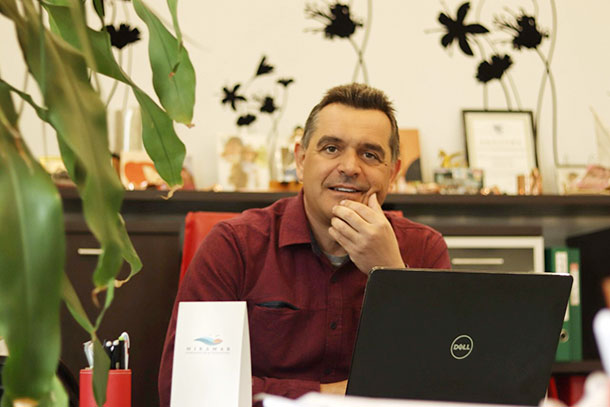 Stoyan Dimitrov is a graduate of one of the most prestigious universities in Bulgaria- University of Architecture, Civil Engineering and Geodesy. He is the founder of MIRAMAR and has deliberately planned the development of the Company. The principles of his technical education are the basis for his high professionalism. He has gradually upgraded his qualifications and focused his interests in the field of logistics and forwarding. He established MIRAMAR during one of the most complicated economic stages of the country's development. His attentiveness and forward planning underpin the development of MIRAMAR.

In 2017, the Company was restructured to enrich its portfolio of services and a new transport unit- Margate Trans EOOD was established.
Capt. Vladimir Ivanov
Captain Ivanov is a co-founder of the Company and Manager of Margate Trans EOOD.

He has a degree in Maritime Navigation from the Naval Academy ""N.Y.Vaptsarov". The university boasts a high degree of erudition. Captain Ivanov has gained experience in the management of different types of maritime transport. He uses his knowledge to support MIRAMAR in the field of logistics. He took the management of the road transport fleet.
Finance Department
The Company establishes a secure internal system to monitor accounting operations and financial flows. The team is responsible for review and preparation of offers and cost control, and prevents our customers from sustaining non-profitable financial terms.
To be our partner in this field, we have chosen a well-established accounting company. It ensures good control and proper documentation which is very important to our work.
Customs Clearance, Documentation and Forwarding Department
MIRAMAR can afford the most appropriate professionals. They have extremely high authority in the industry. They know the logistics conditions well and provide quality interconnection between documentation- transport- customs clearance- cargo management. They know the specifics of the work of all institutions. They ensure the correct order of formalities in deliveries, customs clearance and carriage of goods.
Shipping Agency Department
The personnel of this department consists of qualified shipping agents who know maritime law and port procedures. They develop detailed plans and ensure effective services.
Transport Department
Our Transport Department is a team that carefully and professionally ensures movement of goods. Professional competence and merchandise education ensure a comprehensive examination of the type of goods and the requirements for the movement of goods, and they plan a short and cheap route. When necessary, the team combines different modes of transport to satisfy the requirements of MIRAMAR's clients.